Hi Parents
Our Pricing Structure since going online has changed.
Club Base fee Covers all Coaching, Badges, Invoice Processing and Club Administration fees for your program.
Program fees cover all Ice Cost, which this year includes a 2% increase which we have received from the town. .
Skate Canada Fees are paid yearly and remain at $36.
Fund Raising Fee $90, we provide you a box of chocolates to resell to recoup your $90.
Please complete your online registration and print a copy of your invoice. If you want to pay by Cash, please bring Cash to our Onsite Registration where you will be given your fund raising Chocolates. If paying by Cheque, please bring either a full cheque or all installment post-dated cheques to the onsite registration on one of the following dates
Monday August 13, South Courtice, 6:30-8:00 pm Lobby Pad A
Tuesday August 14, Rickard, 6:30-8:00 pm Pad B Lobby
Wednesday August 22, South Courtice, 6:30-8:00 pm Lobby Pad A
If you have additional questions, please email registration@bfsc.net, we will have staff available during the onsite registration to answer any questions you may have.
Thanks
BFSC Executive
2018-2019 BFSC SCHEDULE
SUNDAY

MONDAY

TUESDAY

WEDNESDAY

THURSDAY

FRIDAY

11:30 – 12:20

OPEN SESSION

No Group

4:30 – 5:20

JUNIOR/INTERMEDIATE A

10 minutes of combined stroking

Junior fully instructed

Int A 15 minute Group

5:30 -6:20

JUNIOR/INTERMEDIATE A

10 minutes of combined stroking

Junior fully instructed

Int A 15 minute Group

4:00 – 5:20

SENIOR

Intermediate/Senior Class 5:00-5:20

4:00 – 5:20

INTERMEDIATE A/B

Intermediate/Senior Class 5:00-5:20

5:30 – 6:20

OPEN SESSION

No Group





12:20 – 12:30

FLOOD

5:00 - 5:50

Intermediate B

includes class at 5:50

6:20 – 6:30

FLOOD

5:00 – 6:20

INTERMEDIATE A/B

Intermediate/Senior Class 5:00-5:20

5:00 – 6:20

SENIOR

Intermediate/Senior Class 5:00-5:20

12:30 – 1:20

CANSKATE

5:50 - 6:10

Intermediate B/Senior Class

6:30 – 7:20

CANSKATE

6:20 – 6:30

FLOOD

6:20 – 6:30

FLOOD

6:10 – 6:20

FLOOD

7:20 – 8:20

INTERMEDIATE B/SENIOR

6:30 – 7:20

CANSKATE

6:30 – 7:20

CANSKATE

6:20 - 7:20

SENIOR

includes class at 5:50

INTERMEDIATE/SENIOR

CLASSES

5:50-6:10

5:00 - 5:20

5:00 - 5:20

OFF-ICE

6:00 – 6:20

JUNIOR

5:30 – 6:15

SENIOR

5:30 – 6:15

INTERMEDIATE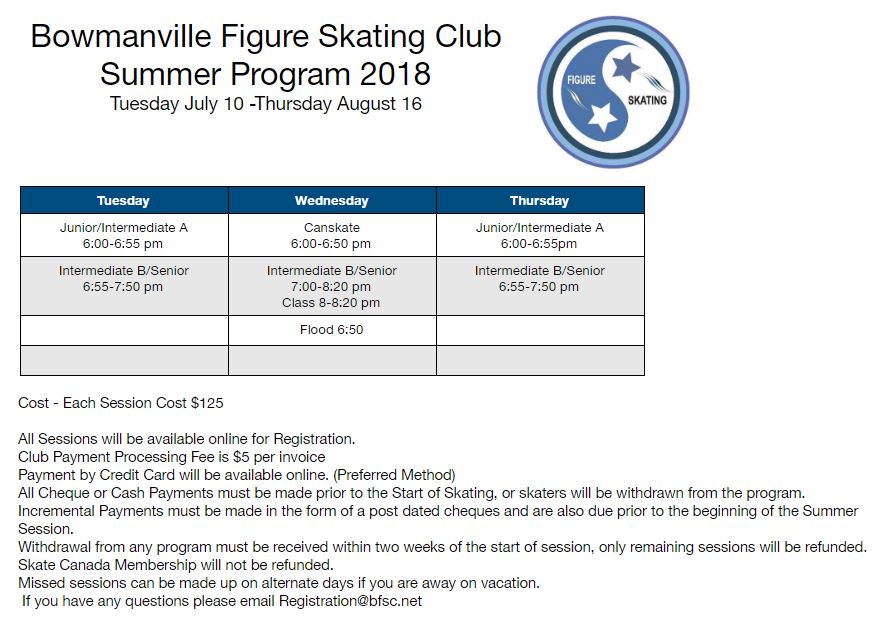 Registration will be Open June 9th at 12:00 am
SESSION REQUIREMENTS & INFORMATION
CANSKATE and PRE-CANSKATE
50 min program for skaters 3 years and up
absolutely NO experience needed
a dynamic program that focuses on fun and basic skill development
JUNIOR
must be passed Stage 4
private coach not mandatory but private lessons are allowed
each 50 session is structured and fully instructed in group formats
INTERMEDIATE A
passed all 3 Star 1 tests, private coach mandatory
INTERMEDIATE B
passed all 3 Star 2 tests PLUS one complete Star 3 test or over 14 years old
20 Minute Class with Senior - no Private Coaching Allowed
SENIOR
passed all 3 Star 3 tests PLUS complete Star 4 Freeskate/Junior Bronze Freeskate or one complete Senior Bronze test (any discipline)
20 Minute Class with Intermediate B - no Private Coaching Allowed